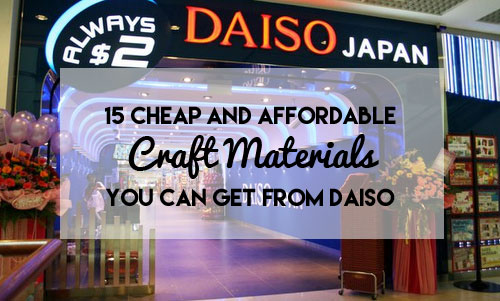 15 Cheap and Affordable Craft Materials You Can Get From Daiso
Where's the first place you think of where you can get almost anything you need, at a cheap and affordable price? That's right, it's Daiso! Everything at Daiso is priced at just $2! However, as we all know not all items have the same worth, some items there might not be the cheapest in the market! For all craftaholics, we have compiled a list of 15 things that are definitely a steal if you buy them from Daiso!
1) Paper
Usually, people would head to places like Paper Market and Popular to buy paper needed for scrapbooking. However, Daiso is actually a very affordable alternative as well! They sell decorative construction paper with patterns, as well as cardstock with decorative designs, suitable to decorate photographs to give that added touch for memories' sake. Origami papers are also sold slightly cheaper in Daiso.
2) Tapes
Daiso sells a variety of tapes, ranging from masking tapes to surgical tapes. However, the one crafters should look out for are the washi tapes, fabric and ribbon tapes! Washi and ribbon tapes are usually more expensive as a craft supply but they are versatile and a staple material for crafts. Daiso also sells a range of unique designs of washi tapes that are rarely seen elsewhere, such as Cherry Blossom washi tapes during the cherry blossom season as well as travel design tapes. 2 tapes for just $2, isn't it affordable?
3) Cork Board
If you're looking for a cheap and affordable cork board for DIY purposes, you can consider Daiso's as they do have cork boards of different sizes, one may just be the one you're looking for!
4) Tools
No craft can be done without these important tools, glue sticks for hot glue gun, and cutting matt for your various craft projects! For only $2 each, they are definitely cheap and affordable enough for your daily use.
5) Calligraphy
Letter writing is the new hype nowadays, but feeling reluctant to spend on materials when you are just a beginner? You can find brushes, paper and even ink at Daiso! Even though most of these are mostly for Chinese Calligraphy, it works just as well for other types of calligraphy.
6) Craft Punches
These craft punches can be expensive, so much so that you would rather cut out the shape yourself than to purchase one. However, Daiso craft punches are affordable enough for you to purchase them without feeling the hole in your wallet. They have a variety of different designs, from decorative to specific shapes for you to choose from as well.
7) Sewing/Knitting Materials
For those who have an interest in sewing, crocheting or knitting and would like to pursue this new hobby, you can consider getting your materials from Daiso. They sell a range of materials needed like yarn, thread, and even crochet hooks of different sizes, just for $2! Isn't it a steal?
8) Beads
Beads can be used to create many different kinds of craft, from necklaces, bracelets to characters made up of beads. This can be a new and interesting medium for you to explore for your next craft project.
9) Stickers and DIY charms
For those who like to decorate your crafts or scrapbook with stickers or charms, look no further because Daiso have it all. Time to add those antique charms and unique stickers to spice up your craft!
10) Painting materials
Satisfy your painting necessities with affordable canvas and paint from Daiso, because where else can you find canvas and paint for only $2?
11) Sequins and spangles
All kids love these shiny sequins and spangles for their craft, a good decorative material that we at LolliBox also use!
12) Felt
Daiso sells different kinds of felt, ranging from plain solid coloured ones to those with designs. Felt is a good craft material that can be used for many craft projects, such as LolliBox's very own felt cardholder!
13) Others
Other things that Daiso also sell that can be utilized for your next craft project, such as the wooden blocks, which you can make into alphabet blocks or a inking stamps. Other crafting materials are twine and dried flowers that can be used for decorative purposes, are sold affordably as well.
14) Packaging, letters and envelopes
You can consider purchasing clear gift bags as well as letter and envelope sets with various designs to package your craft materials and add a personal message if you are giving your completed crafts as a gift. Say good bye to those plain white or brown envelopes you have at home!
15) Seasonal, festive supplies
Sometimes it is difficult to find seasonal and festive craft and party supplies in Singapore. Fear not, Daiso's products cater to a variety of different seasonal occasions from Japan's cherry blossom season to Halloween. You can even find costumes for just $2!
Hopefully this list will help you to spend thriftily without compromising the quality of your crafts! Enjoy and keep crafting! 🙂